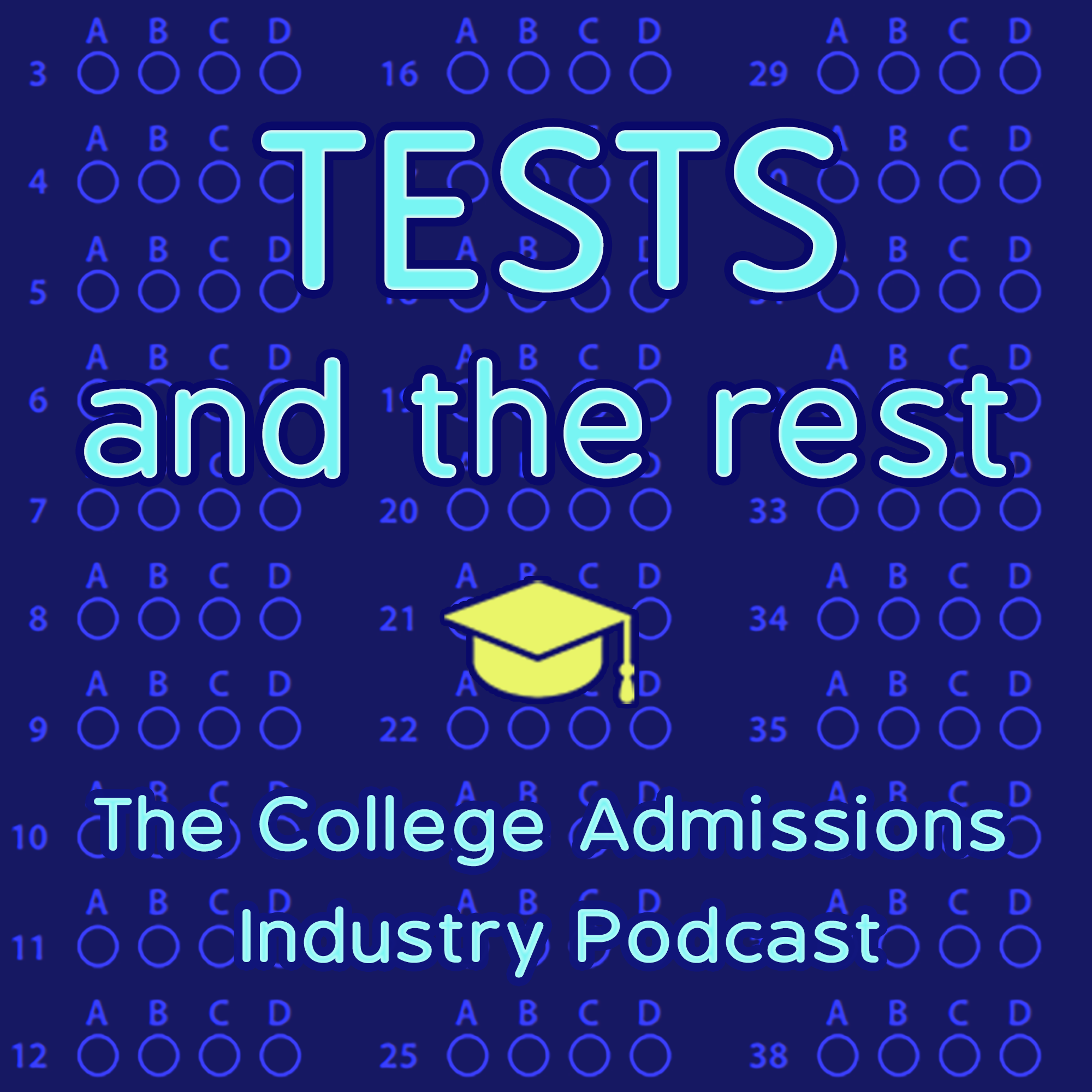 Welcome to THE college admissions industry podcast! Join Mike Bergin and Amy Seeley every Tuesday and Friday as they discuss the latest issues in testing, admissions, learning, and education with leading experts.
Tests and the Rest is perfect for school counselors, educators, test prep professionals, college consultants, and just about anyone engaged in the college admissions process. You can subscribe to this podcast using the form at the bottom of the page or stream it via your favorite podcast app, including iTunes, Google Podcasts, Spotify, Stitcher, and Overcast. At around 25 minutes per episode, you can enjoy Tests and the Rest just about any time.
And if you enjoy the podcast, you'll love the Tests and the Rest Winter Test Prep Conference 2020 on January 10-11!
YOUR HOSTS
Mike Bergin is the president of Chariot Learning and founder of TestBright. Amy Seeley is the president of Seeley Test Pros. Between them, expect over 50 years of industry insight, expertise, insider news, and maybe a bit of sarcasm.
EPISODES
55. REDUCING FRICTION IN THE COLLEGE ADMISSIONS PROCESS with author and consultant Roger Dooley
54. WHAT YOU NEED TO KNOW ABOUT STUDENT LOANS with Elaine Rubin, financial aid expert at Edvisors
53. GALLUP ALUMNI SURVEY AND THE SIX COLLEGE EXPERIENCES THAT DRIVE SUCCESS with research consultant John Clark
52. TEST SCORES AND THE NCAA CLEARINGHOUSE with test prep professional Jennifer Henson
51. HELPING STUDENTS PREPARE TO THE DEMANDS OF COLLEGE with clinical neuropsychologist Dr. Adam Zamora
50. UTILIZING A REFLECTION JOURNAL TO PREPARE FOR YOUR COLLEGE ESSAY with educational consultant Carrie Bedard
49. DOES WHERE YOU GO TO COLLEGE MATTER? with college consultant Lynn O'Shaughnessy
48. HOW TEST PREP AND SPORTS ARE SIMILAR with test prep professional Tony Miglio
47. WHY GRADE INFLATION IS HARMFUL with researcher and professor Seth Gershenson Ph.D.
46. ATTENDING A COMMUNITY COLLEGE with college admissions professional Heidi Nicholas
45. EXECUTIVE FUNCTIONING SKILLS AND TEST PREP with interdisciplinary educator Jenna Bee
44. PATHWAY PLANNING FOR HIGH SCHOOLERS with school counselor Andrea House
43. INCREASED COLLEGE COSTS FOR SPECIAL NEEDS STUDENTS with Publisher and VP of Research for Savingforcollege.com Mark Kantrowitz
42. HELPING TEENS GET THE SLEEP THEY NEED with physician assistant and Sleep 101 project manager Kari Oakes
41. MENTAL TECHNIQUES FOR PEAK TEST PERFORMANCE with CEO/Founder of City Test Prep Bara Sapir
40. 2020 CHANGES IN ADMISSIONS RULES with associate dean of college counseling and author Patrick O'Connor, Ph.D.
39. WHAT DOES IT MEAN TO BE A BAD TEST TAKER? with test prep professional and author Moshe Ohayon
38. HOW TEST PREP TUTORING SHOULD WORK with Evan Wessler of Method Test Prep
37. BRINGING GRIT TO TESTING AND ADMISSIONS with researcher and author Laila Y. Sanguras, Ph.D
36. WHAT MOTIVATES STUDENTS AND HOW TO ENGAGE THEM with test prep professional Pranoy Mohapatra
35. ATTENDING A JESUIT UNIVERSITY with Xavier University Regional Recruitment Director Trace Althoff
34. HOW TO TEACH STUDENTS TO STUDY EFFECTIVELY with academic life coach Gretchen Wegner
33. PSAT AND THE NATIONAL MERIT SCHOLARSHIP PROCESS with test prep professional and author Brian Stewart
32. MAKING THE MOST OF COLLEGE VISITS with independent educational consultant Jodi Rosenshein Atkin
31. WHAT COLLEGE BOARD AND ACT ARE DOING RIGHT with Ben Sexton, founder of Sexton Test Prep
30. ATTENDING A LARGE PUBLIC UNIVERSITY with OSU Admissions Counselor Keith Lofton
29. HOW PARENTS CAN BEST SUPPORT STUDENTS IN TEST PREP with Alexis Avila, founder and CEO of Prepped and Polished
28. THE REALITY OF GRADE INFLATION with Brian Eufinger, president of Edison Prep
27. COMMON MYTHS ABOUT THE SAT AND ACT with Daniel Ascher, President of A+ Test Prep and Tutoring
26. ALL ABOUT THE ROTC SCHOLARSHIP with consultant and author Lieutenant Colonel Robert O. Kirkland
25. WHEN GIFTED AND TALENTED STUDENTS STRUGGLE with Shane Bybee, founder of Bybee College Prep
24. CHOOSING HIGH SCHOOL MATH COURSES STRATEGICALLY with author and educator Richard Corn
23. ATTENDING COLLEGE IN A BIG CITY with NYU Director of Admissions Billy Sichel
22. WHAT IS ACT SCIENCE ALL ABOUT? with author and test prep guru Michael Cerro
21. IMPLICATIONS OF AN ENVIRONMENTAL CONTEXT DASHBOARD with Travis Minor of Open Door Education
20. THERAPEUTIC SCHOOLS AND TEENS IN CRISIS with the CEO of Score At The Top Learning Centers, Jason Robinovitz
19. COLLEGE PRICE TRANSPARENCY with Dr. Mark Salisbury, co-founder of TuitionFit
18. USING MINDFULNESS FOR TEST AND SCHOOL SUCCESS with educator and author Logan Thompson
17. DIFFERENCES BETWEEN SAT AND ACT GRAMMAR with author Erica L. Meltzer
16. HOW THE SAT IS ACTUALLY SCORED with Aaron Golumbfskie of Prep Matters
15. FINISHING A FOUR-YEAR DEGREE ON TIME with educational consultant Edie Steele
14. MATHEMATICAL MATURITY & TEST SUCCESS with author and test prep professional Dr. Steve Warner
13. THE RAMPANT COST OF COLLEGE with Paul Celuch, president and founder of College Assistance Plus
12. HOW SCHOOL AND PRIVATE COLLEGE COUNSELORS CAN WORK TOGETHER with counselor Cathy Charles Szendrey
11. TEEN ANXIETY AND SOCIOECONOMIC STATUS with psychiatrist Dr. Anthony Villani
10. DECIDING BETWEEN THE SAT AND ACT with Heather Krey, director of Test Prep for Success
9. COLLEGE ADVISING FOR UNDERSERVED POPULATIONS with Dr. Chris Tudico, school counselor at Saint Martin de Porres
8. BRINGING CRITICAL BALANCE TO HIGH SCHOOLERS' LIVES with Eric Domroes, school counselor at Pittsford Mendon HS
7. STATE OF THE TEST PREP INDUSTRY IN 2019 with Kevin Organisciak, founder of The Association for Test Prep, Admissions, and Private Tutoring (TPAPT)
6. HOW TO MAKE THE MOST OF ONLINE TEST PREP with Tom Ehlers, founder and president of Method Test Prep
5. NEED BLIND AND NEED AWARE ADMISSIONS with educational consultant Jona Jacobson
4. THE ROLE OF LIBRARIES IN TESTING AND ADMISSIONS with Deena Viviani, Young Adult Librarian at Brighton Memorial Library
3. ACT SCORE REVIEW AND VALIDATION with Desiree Rodriguez-Gould, college counselor at St. Edward HS
2. PAST, PRESENT, AND FUTURE OF TESTING + Amy Seeley's origin story
1. SAT & ACT TESTING TIMELINES + Mike Bergin's origin story