Media reports would have us believe that all colleges and universities will eventually eliminate all testing requirements from admissions decisions for the betterment of humanity. The test optional reality, however, only advantages certain schools and applicants. Amy and Mike invited admissions counselor Stacey Cunitz to clarify who benefits most from test optional policies.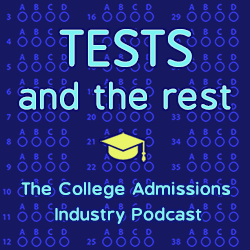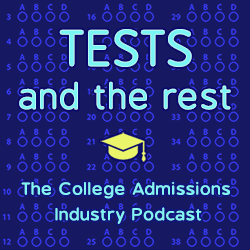 What are five things you will learn in this episode?
What does test optional really mean?
How do colleges benefit from announcing test optional admissions?
In what ways do test optional policies impact equity and access?
What development goals tie into test optional admissions?
How are many of these policy changes tied to changes in the NACAC Code of Ethics?
MEET OUR GUEST
Stacey Cunitz, founder and director of Blue Moon Educational Consulting, earned her BA in Literature and Creative Writing from Barnard College, Columbia University. She went on to earn an MA in Secondary English Education at New York University and a Certificate in College Counseling from UCLA. In 2018, she became a Certified Educational Planner.
After earning her degrees, Stacey taught English at Croton-Harmon High School in NY and at The Crefeld School where she taught MK Asante, author of Buck.
Stacey has been the Director of College Counseling at The Crefeld School since 2005. She is an active member of Independent Educational Consultants Association (IECA), Higher Education Consultants Association (HECA), the National Association of College Admissions Counselors (NACAC), and the Pennsylvania Association of College Admissions Counselors (PACAC), where she has served on various committees over the last ten years. Stacey serves as PACAC's Chair of the Admissions Practices Committee (2017-2020) which is charged with educating colleges, counselors, and students regarding the nature of ethical standards embraced by NACAC and PACAC. In September 2019, she joined NACAC's Admissions Practices Committee, as well. Stacey has also volunteered as an application reader for Point Foundation's scholarships which empowers promising lesbian, gay, bisexual, transgender, and queer students to achieve their full academic and leadership potential.
Stacey is happily married to Dan, a middle school science teacher, and they are the parents of two teenage daughters. Stacey enjoys knitting, reading, their black standard poodle, and their backyard chickens. She also enjoys visiting colleges and getting to know the unique offerings at each. To date she has visited over 200 colleges and universities, and is always adding more to the list.
Find Stacey at https://bluemooned.com/.
LINKS
Truth About Test Optional Resource Page
Who Benefits from Test Optional Policies?
SCOIR (includes a filter to search for TO colleges)
RELATED EPISODES
2020 CHANGES IN ADMISSIONS RULES
THE REALITY OF GRADE INFLATION
YOU CAN'T HANDLE THE TRUTH: SECRETS OF COLLEGE ADMISSIONS
ABOUT THIS PODCAST
Tests and the Rest is THE college admissions industry podcast. Explore all of our episodes on the show page.