Applicants find themselves more confused than ever by current test optional admissions policies; how do you know if "optional" really applies to you? Amy and Mike invited college counseling expert Judi Robinovitz to explore the complexities of whether to submit test scores or not.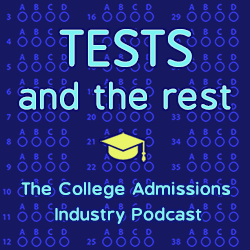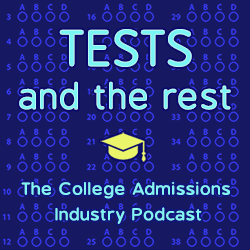 What are five things you will learn in this episode?
What is the difference between test optional and test blind?
What did test optional look like as a policy before COVID?
What does test optional mean presently in college admissions?
What are the most important considerations in deciding to submit a score or not?
What signals from schools can help applicants make wise score submission decisions?
MEET OUR GUEST
Judi Robinovitz is a Certified Educational Planner with more than thirty-five years of experience in college counseling and school placements. She is the author of numerous articles, books, and software products on educational planning and test preparation. Judi has been a featured speaker at national educational conferences, schools, and places of worship.
To keep pace with current educational trends, Judi continually travels across the country to visit dozens of college and boarding school campuses every year. She has acquired vast knowledge of the admissions process as well as the requirements and specialties of hundreds of educational institutions. Since 1980, she and her team have successfully guided more than 8,000 students – from those at the very top of their class to students experiencing significant academic struggles – and their families through the planning and application process for private school, college, and graduate school. Judi specializes in guiding students applying to prestigious double-degree BS-MD programs and the nation's most selective universities as well as colleges that best serve mid-range students and those with learning disabilities.
During her 23-year tenure at Educational Testing Service, Judi served as technical liaison to the College Board. She designed and led the programming team to implement the College Board's first SAT-prep software; she also wrote strategy chapters of their original SAT-prep books. Taking the SAT numerous times throughout her career, Judi has several perfect 800 scores on her record.
As a founding faculty member of two private schools in Boca Raton, Florida, Judi created their college guidance programs and served as Director of College Guidance to the first four graduating classes of each school. Judi founded Score At The Top Learning Centers & Schools in South Florida. Accredited by AdvancED and the Southern Association of Colleges and Schools, the learning centers provide academic tutoring, SAT & ACT preparation, and courses for credit to over 1,000 students every year, both in person and via Skype. The accredited schools are home to more than 180 full-time students who thrive in intentionally small classes ranging in size from one to eight students.
Judi first appeared on our podcast in episode 139 to discuss Building an A+ Extracurricular Resume and in episode 202 to discuss Crafting A College Resume.
Find Judi at judi@scoreatthetop.com.
LINKS
What Does Test-Optional Mean?
Truth About Test Optional
What Does an SAT Score Mean in a Test-Optional World?
The Integrated Postsecondary Education Data System
RELATED EPISODES
WHY COLLEGE READINESS MATTERS
WHY OPTIONAL STATEMENTS AREN'T OPTIONAL
WHO BENEFITS MOST FROM TEST OPTIONAL POLICIES?
ABOUT THIS PODCAST
Tests and the Rest is THE college admissions industry podcast. Explore all of our episodes on the show page.
ABOUT YOUR HOSTS
Mike Bergin is the president of Chariot Learning and founder of TestBright. Amy Seeley is the president of Seeley Test Pros. If you're interested in working with Mike and/or Amy for test preparation, training, or consulting, feel free to get in touch through our contact page. We'd love to hear from you!