The opportunity to compete athletically on the college level–while winning scholarships for doing so–has always been connected to SAT and ACT scores. What's changed post-pandemic and what hasn't? Amy and Mike invited educator Jen Henson to correct myths about testing and college sports.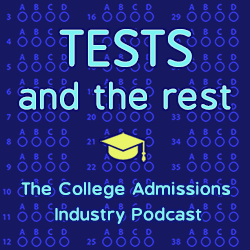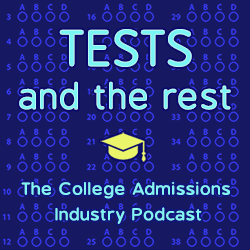 What are five things you will learn in this episode?
What is NCAA eligibility?
What kind of scores do college athletes generally need?
Can we anticipate that NCAA eligibility test score requirements will continue to be waived?
If a school is test optional, could an athlete still need an SAT/ACT score?
Who should a prospective student athlete talk to on campus about needing scores?
MEET OUR GUEST
Jennifer Henson a.k.a "The GOAL DIGGER" is a nationally sought after test prep expert specializing in the ACT test. Jennifer, who was Winton Woods City School's (OH) Teacher of the Year in 2014, holds a Master of Education degree with a Bachelor's in English from Xavier University—where she was a walk-on tennis player. She's taught 21 years and coached ACT prep for over 12 years– and has an army of teachers trained to assist her requests for tutorials. Her former ACT students now attend notable higher learning institutions, including Notre Dame, The Ohio State University, Texas A&M, The Naval Academy, and the University of Kentucky—among others.
Jennifer has assisted students from California to Connecticut—and states in between—to reach their personal ACT goals. No score is too low or too high, as she has doubled the scores of students starting at the low end, in addition to helping initially higher scoring students achieve the coveted 36 on every section of the test. Two young men playing D1 football had a composite score of a 9 originally, and scored 18 and 20 (respectively) after working with her.
Jen first appeared on this podcast on episode #57 to talk Test Scores and the NCAA Clearinghouse. You can earn more about Jen and her background, experience, and practice in her TEST PREP PROFILE from episode #246.
Find Jen at jenhensonactprep.com.
LINKS
Test Scores | NCAA.org
Divisions I and II extend COVID-19 initial-eligibility policies
RELATED EPISODES
ATHLETIC RECRUITING TRENDS IN 2021
SPORTS RECRUITING IN THE TIME OF COVID
LOOKING FOR A FULL RIDE
ABOUT THIS PODCAST
Tests and the Rest is THE college admissions industry podcast. Explore all of our episodes on the show page.
ABOUT YOUR HOSTS
Mike Bergin is the president of Chariot Learning and founder of TestBright. Amy Seeley is the president of Seeley Test Pros. If you're interested in working with Mike and/or Amy for test preparation, training, or consulting, feel free to get in touch through our contact page. We'd love to hear from you!