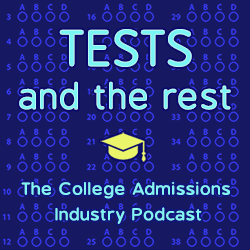 As we approach the end of a truly rewarding year of speaking with experts in education, testing, and college admissions, we want to celebrate by highlighting some of our favorite early episodes.
Some of our first guests shared deep insights into promoting balance and managing both immediate and long-term stress in teen's lives. If the issue of teen mental health matters to you as an educator, counselor, or parent, you'll love these three episodes:
8. BRINGING CRITICAL BALANCE TO HIGH SCHOOLERS' LIVES with school counselor Eric Domroes
11. TEEN ANXIETY AND SOCIOECONOMIC STATUS with psychiatrist Dr. Anthony Villani
18. USING MINDFULNESS FOR TEST AND SCHOOL SUCCESS with educator and author Logan Thompson
If you enjoyed any of these podcasts, please share widely!