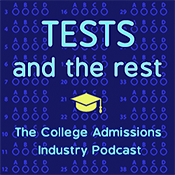 As we approach the end of a truly rewarding year of speaking with experts in education, testing, and college admissions, we want to celebrate by highlighting some of our favorite early episodes.
Some of our first guests helped understand both the spiraling increase in college costs and critical information applicants should know about carrying those costs. If the issue of how to pay for college matters to you as an educator, counselor, or parent, you'll love these three episodes:
5. NEED BLIND AND NEED AWARE ADMISSIONS with educational consultant Jona Jacobson
13. THE RAMPANT COST OF COLLEGE with Paul Celuch, president and founder of College Assistance Plus
54. WHAT YOU NEED TO KNOW ABOUT STUDENT LOANS with Elaine Rubin, financial aid expert at Edvisors
If you enjoyed any of these podcasts, please share widely!