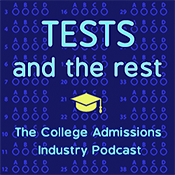 As we approach the end of a truly rewarding year of speaking with experts in education, testing, and college admissions, we want to celebrate by highlighting some of our favorite early episodes and one special panel.
Whoever coined the expression, "It takes a village to raise a child," must have worked in education! Some of our first guests shared deep insights into promoting balance and managing both immediate and long-term stress in teen's lives. If your professional responsibilities connect in any way to supporting college and career readiness, you'll love these three episodes:
4. THE ROLE OF LIBRARIES IN TESTING AND ADMISSIONS with Young Adult Librarian Deena Viviani
12. HOW SCHOOL AND PRIVATE COLLEGE COUNSELORS CAN WORK TOGETHER with counselor Cathy Charles Szendrey
108. HOW IECS AND TEST PREP PROFESSIONALS CAN WORK TOGETHER (Tests and the Rest Summit Panel)
If you enjoyed any of these podcasts, please share widely!