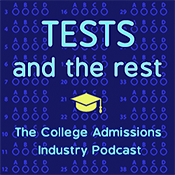 As we approach the end of a truly rewarding year of speaking with experts in education, testing, and college admissions, we want to celebrate by highlighting some of our favorite early episodes.
Some of our first guests shared deep insights into what students should know about not just getting into but thriving in college. If providing guidance and support to aspiring college graduates matters to you as an educator, counselor, or parent, you'll love these three episodes:
9. COLLEGE ADVISING FOR UNDERSERVED POPULATIONS with school counselor Dr. Chris Tudico
15. FINISHING A FOUR-YEAR DEGREE ON TIME with educational consultant Edie Steele
53. GALLUP ALUMNI SURVEY AND THE SIX COLLEGE EXPERIENCES THAT DRIVE SUCCESS with research consultant John Clark
If you enjoyed any of these podcasts, please share widely!