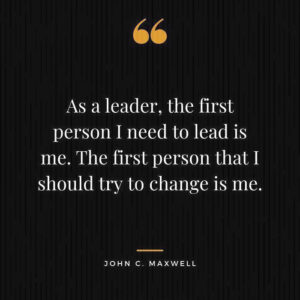 When teaching is your business, you tend to develop a quick eye for what your learners lack. Some require skills training and others specific knowledge. Some students simply need an attitude adjustment, which you should be well trained to deliver.
We see so clearly the deficits in others. Do we always recognize the same in ourselves?
Leadership guru John C. Maxwell shared an insight into a blind spot many of us suffer: "As a leader, the first person I need to lead is me. The first person that I should try to change is me."
Maxwell's concept of a 360° Leader demands that those who lead should be able to lead up, down, and across an organization. Teachers are leaders (and so much more) so of course we as educators should endeavor to be 360° teachers, which means we must begin and end with ourselves.
I laugh at the sight of professionals who seem to reject the very services they peddle, from mental health counselors badly in need of therapy to my son, the gourmet chef, who mostly eats junk food! Are teachers who turn their noses up at professional development any different? As tutors, we need to be as immersed in the learning process as our students should be.
How many of these training resources have you pursued–or had thrust upon you–over the last month?
Books and articles
Podcasts
Live or video courses
Masterminds and coaching
Professional organizations
If you're not indulging in consistent and varied PD, you are not walking your walk as a tutor. Hypocrisy aside, learning just makes you better operationally, pedagogically, and psychologically. Case in point, I attended an outstanding Tutor Roundtable on the new Digital SAT hosted by the National Test Prep Association earlier this week, not as a leader but a learner. In case the benefit of having 20 other inquisitive professionals sharing insights and asking questions isn't immediately apparent, consider that this new SAT revision will be central to the lives of anyone who prepares students for college admissions tests. Those of us in the Zoom room for this peer session already have a leg up on thousands of competitors in understanding how best to serve our students. Plus, I'm getting excited about my next curriculum revision!
You know the old expression, "Physician, heal thyself." That advice isn't just for doctors!
As a teacher, the first person I need to teach is me.
— Mike Bergin
Tutor Tips, Tools, and Thoughts
Lessons In Business From Building A Thriving Test-Prep Company
I had a great conversation with Philip Pound of EFL Magazine about growing up in NYC, test optional admissions, and both starting and growing an educational business.
Motivational Interviewing For Students
How do you get a student to do something? You don't…
The likable brand (or person)
Do you like your students? If not, you may have a problem.
Do Tutors Need Insurance Coverage?
Are you feeling lucky enough to go uninsured?
Why the Most Productive People Don't Always Make the Best Managers
Great educators don't always make great administrators, but they can if they focus on new skills.
Did you enjoy this issue of Tutor: The Newsletter? Get the next issue right in your inbox by subscribing below: