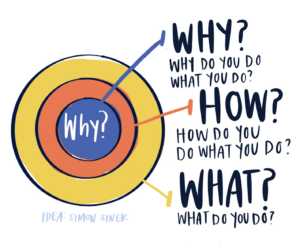 Ages ago, back when I believed that quality referrals could be found around every corner, I found myself at a large networking event. Every attendee had a minute to deliver their respective elevator pitch. Surprisingly, another tutor was there. Even more surprisingly, rather than promote her expertise, experience, or excellent results, she used her soapbox moment to share how convenient tutoring was for her schedule. Apparently, that was her "why" as a tutor.
Suffice to say, she didn't turn out to be much in the way of competition.
Nonetheless, I was–and clearly still am–offended at her motivation for tutoring. Somehow, I imagine Simon Sinek would feel the same way. Sinek promotes a perspective of work called The Golden Circle.
The outer ring of the circle describes WHAT you do.
The middle ring explains HOW you do it.
The center of the circle clarifies WHY you do it. 
That WHY is the very heart of your work, your true purpose, cause, or conviction–assuming you have one.
Many of our students seem to lack that essential WHY in the work we ask them to commit to. They understand WHAT they are supposed to do and can go through the motions of HOW. Without a WHY, though, they find true progress and success elusive.
We tutors suffer just the same when our only motivations are petty or selfish. A nice hourly wage and flexible scheduling serve as sufficient inducements when the work is easy and plentiful. When times get tough or students recalcitrant, those perks feel paltry. And your very best will almost certainly be reserved for whatever activity does channel your deeper purpose.
Nietzsche's observation that, "One who has a why to live for can bear almost any how," holds true for students and teachers alike. If you're eager for more engagement, enjoyment, and success as a tutor, find the WHY in your work.
— Mike Bergin
Tutor Tips, Tools, and Thoughts
Why Simon's Concept of "The Circle of Safety" is So Topical Right Now
Another Sinek concept: do you have a professional circle of safety?
Building a Wider, More Diverse Pipeline of Advanced Learners
The special report of the National Working Group on Advanced Education recommends–no surprise–advanced education.
What Is Social and Emotional Learning?
How much do you really know about SEL?
There's always money in the banana-peeling robot
Worried about bots taking over tutoring jobs? First, they need to master bananas.
Is the Internet Changing Kids' Brains?
This reads more like conjecture than fact but nonetheless rings true.
Did you enjoy this issue of Tutor: The Newsletter? Get the next issue right in your inbox by subscribing below–only subscribers get the Tutor Classifieds: