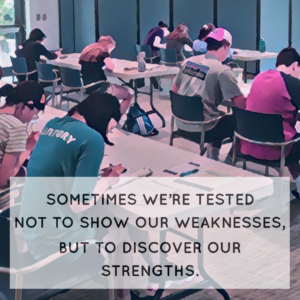 Earlier this week, I ran a SWOT Analysis as part of an NTPA Summit on planning for the new year. If you missed this productive session, you missed out! A regular SWOT analysis can, if done properly, help anybody develop a clearer sense of themselves and their prospects in the short term by focusing on both internal and external advantages and disadvantages:
STRENGTHS – internal, positive attributes
WEAKNESSES – internal, negative attributes
OPPORTUNITIES – external factors that may contribute to your success
THREATS – external factors that may hinder your success
For example, owners of tutoring practices of any size should consider both their strengths and weaknesses in terms of marketing, human resources, assets, and financial resources. Your training (and the way you train your teachers) can be a strength, as can proprietary instructional materials, a killer brand and reputation, and cash on hand. Weaknesses in our industry range from a lack of differentiation or market advantage to weak business relationships to a serious mismatch between instructional hours and demand.
Opportunities and threats to tutoring practices come from all corners: competitors, educational trends, testing changes, technological innovations, and political and economic shifts. Preparing contingencies in advance of a potential calamity can keep you afloat amidst a deluge of bad news. Most test prep tutors remember that sinking feeling when SAT and ACT administrations were canceled indefinitely, and schools stopped requiring test scores. That crisis may be abating, but another always lurks on the horizon.
Bear in mind that something may be both a strength and a weakness, either in turn or at the same time. For example, I used to rent an office, which provided several strong business advantages for my practice. During the pandemic, the office became a liability and remained one even after the world opened up. Now that I've jettisoned that commitment, I see my mostly remote practice as a strength with some obvious weaknesses as far as some potential local clients are concerned.
The same dichotomy applies to assessment of external factors. Does the coming digital SAT or exponentially improving AI functionality present you with a threat, an opportunity, or both?
Like it or not, the near future in education holds no guarantees. Look forward, if you can, to rapid and sometimes unexpected changes, both large and small. Even better, prepare for these changes as you would expect your students to prepare for high stakes tests.
Sometimes we're tested not to show our weaknesses but to discover our strengths. You are tested every day, so use those opportunities to discover your strengths!
— Mike Bergin
Tutor Tips, Tools, and Thoughts
Applying Bloom's Taxonomy to Online Assessment
Do you find Bloom's Taxonomy helpful in tutoring?
Self-control and SAT outcomes: Evidence from two national field studies
Creating habits for self-control is much easier than depending on willpower to study.
How to create mnemonics and finally remember students' names
BONUS: Check out the awesome pre-class student information form.
How to Write a Ferociously Unique Selling Proposition
Do you even know why clients should choose you?
Origin of the term "spam" to mean net abuse
Why exactly is the name of a niche canned meat always on our lips?
Did you enjoy this issue of Tutor: The Newsletter? Get the next issue right in your inbox by subscribing below: