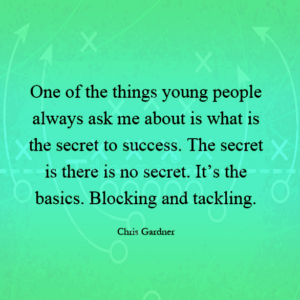 Going back to basics.
Stressing the fundamentals.
Doing the dirty work.
Getting the job done.
The shining path to success and victory appears from a distance to be paved with gold and glory. However, those who step foot on that road soon recognize what it really is: a long, hard slog where the most meaningful progress occurs far from the public eye.
The Green Bay Packers of the 1960's personified the gritty formula for football success, intuited by their historic head coach. Vince Lombardi, so synonymous with victory that the winner of the Super Bowl gets a trophy named for him, stated this enduring truth plainly: "Some people try to find things in this game that don't exist but football is only two things – blocking and tackling."
What do such prosaic tasks as blocking and tackling have to do with winning? The Green Bay Packers won a lot of games, including the first two Super Bowls. The reason the Packers were so unstoppable on both sides of the ball was because they did two fundamental things better than their opponents. Dominance in blocking and tackling meant that they didn't have to rely solely on the heroics of their skill players to win games. Packer games were won, as the saying goes, in the trenches.
Such success didn't come easy. Lombardi was consumed with practicing the football basics. His teams spent almost all of their practice time working on and perfecting their blocking and tackling, performing drills from sunrise to sunset to hone these irreplaceable skills. What the coach and his players understood was that talent alone is never enough. Thirsty for victory game after game, season after season, they dedicated themselves to the relentless pursuit of technical excellence because, without technique, talent is wasted.
Sports are often used as metaphors for life with good reason. The concept of blocking and tackling applies as aptly in other aspects of performance as it does to athletics. Consider the path you've chosen as your road to glory. Whether you're catching a football, playing a guitar, or penning your autobiography, you can't ignore the basics: dropping just one little pass, chord, or punctuation mark can undo even the most heroic effort. Success comes from practicing and perfecting the fundamentals until they become as natural to you as breathing.
Entrepreneurs and athletes alike love to wax eloquent about the importance of blocking and tackling, but coaches, teachers, and parents should be equally enamored of the concept as applied to academics. The blocking and tackling of learning includes fundamental reading, writing, math, study, and time management skills, along with lots of motivation, resilience, and commitment. Emphasize the fundamentals and your students will be able to tackle any challenges.
What worked for the Packers works everywhere for everyone. Blocking and tackling may not make the metaphorical highlight reel, but nobody gets a big win without it.
— Mike Bergin
Tutor Tips, Tools, and Thoughts
Ebbinghaus's Forgetting Curve
Understand why we forget things.
Starting principles: How to find your principles
Do you have starting principles? I'd love to hear them.
SCAMPER: How to Use the Best Ideation Methods
Use SCAMPER to remember the seven questions that lead to improvement and innovation.
What motivates students to learn?
Are academic skills enough?
With Elon Musk in Charge at Twitter, You May Be Considering Other Short-Form Alternatives
Is Mastodon the new Twitter? Maybe not yet…
Did you enjoy this issue of Tutor: The Newsletter? Get the next issue right in your inbox by subscribing below: