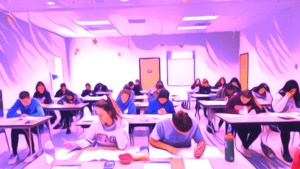 If for whatever reason the testing center you signed up for isn't going to work out, don't worry! You can swap it out for another one.
Of course, there are a couple of catches. With how many students take the SAT and ACT every year, the system can't afford to shuffle around every single person who wants to change testing locations, so if you really need to, you should do the following as soon as possible.
If you're taking the SAT:
Find out if the late registration deadline for your test date has passed. You can find this out on the College Board website or on your registration ticket. If it has, you're unfortunately stuck with the location you've got.
If the deadline hasn't passed yet, you can change your test location through your MySAT account or the SAT customer support line. It'll cost you a $25 fee, unless you have a fee waiver, in which case it's free.
If you're taking the ACT:
Same as the SAT, find out if you still have time to change your registration. But, the ACT gives you the option to sign up for standby testing if it's too late. Standby testing is a sort of first-come, first-served waitlist that test-takers can join for $63.
If you still have time, you can just change your test location on the ACT website for $40.
Once you successfully change your testing location, make sure you either print your new ticket or order it through mail! Your new testing center won't let you in if the old location is printed on your ticket.
RELATED QUESTIONS
When are the SAT and ACT offered in a year?
What should a student bring on test day?
ADDITIONAL RESOURCES
ACT Registration page
SAT Registration page