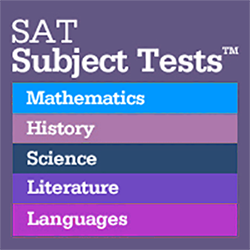 SAT Subject Tests are like the SAT or ACT in that they are college admission exams. They differ in that each Subject Test tests knowledge of one specific subject on a high school level. While the 20 different tests
MATHEMATICS
Math Level 1, Math Level 2
HISTORY
U.S. History, World History
SCIENCE
Biology E/M, Chemistry, Physics
LITERATURE
Literature
LANGUAGES
Spanish, Spanish with Listening, French, French with Listening
Chinese with Listening, Italian, German, German with Listening
Modern Hebrew, Latin, Japanese with Listening, Korean with Listening
Questions on each hour long Subject Test are entirely multiple-choice. Subject Tests are scored on a 200–800 scale, with most colleges expecting scores of 650 or higher.
ADDITIONAL RESOURCES
College Board page on SAT Subject Tests
RELATED QUESTIONS
Which Subject Tests should a student take?
When is the best time to take SAT Subject Tests?