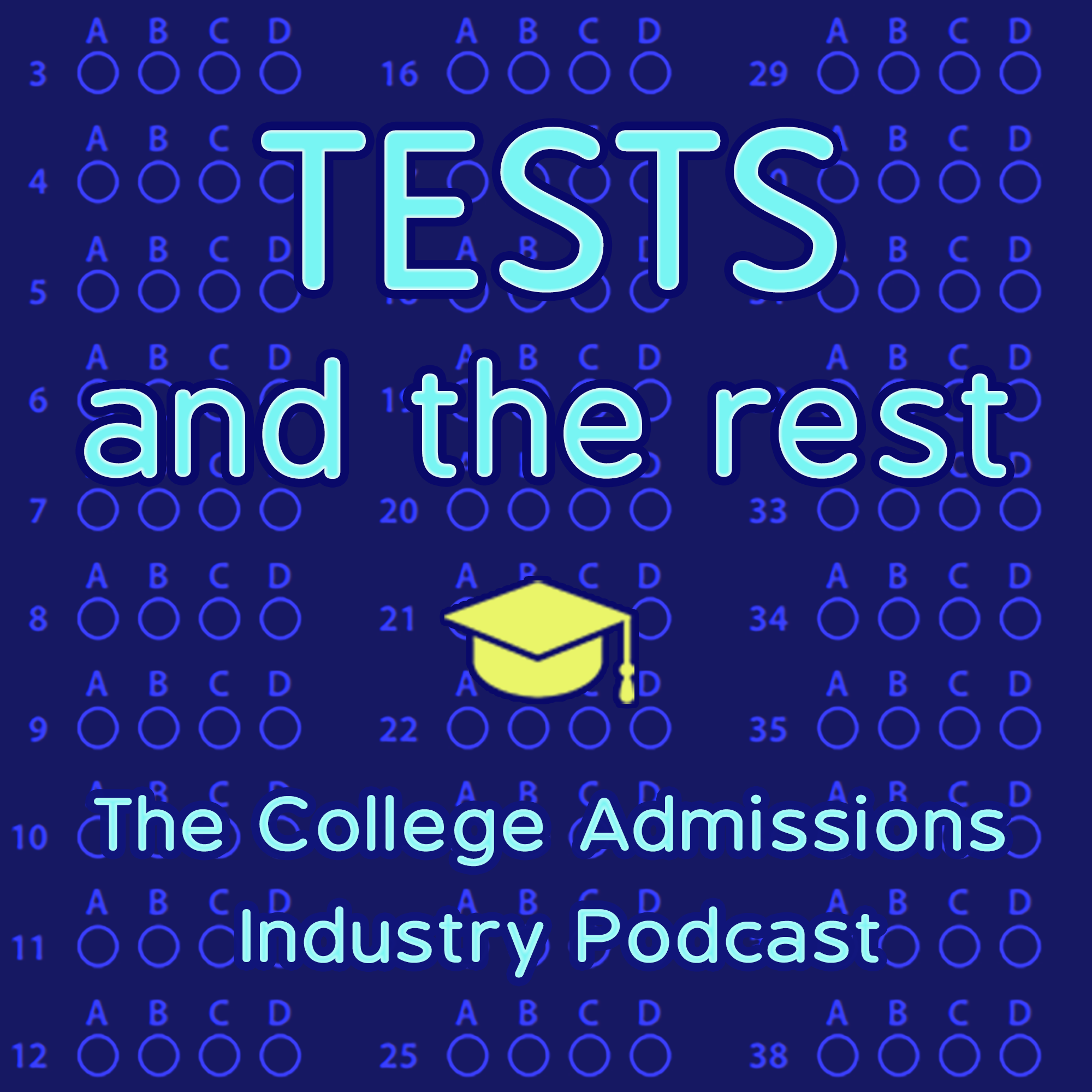 Welcome to THE college admissions industry podcast! Join Mike Bergin and Amy Seeley every Tuesday and Friday as they discuss the latest issues in testing, admissions, learning, and education with leading experts.
Tests and the Rest is perfect for school counselors, educators, test prep professionals, IECs, parents, and just about anyone engaged in the high school, college, or graduate admissions process. You can subscribe to this podcast using the form at the bottom of the page or stream it via your favorite podcast app, including iTunes, Google Podcasts, Spotify, Stitcher, and Overcast. At around 25 minutes per episode, you can enjoy Tests and the Rest just about any time.
YOUR HOSTS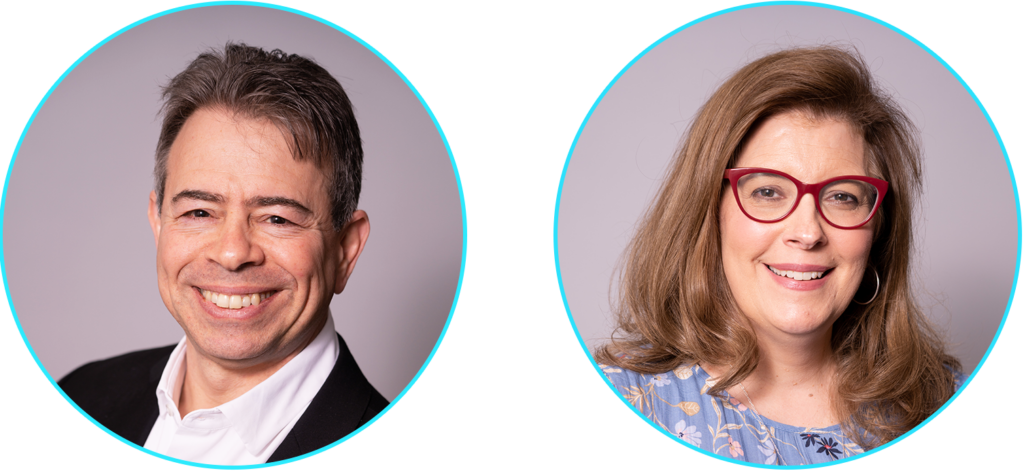 Mike Bergin is the president of Chariot Learning and founder of TestBright. Amy Seeley is the president of Seeley Test Pros. Between them, expect over 50 years of industry insight, expertise, insider news, and maybe a bit of sarcasm.
If you're interested in working with Mike and/or Amy for test preparation, coaching, or consulting, feel free to get in touch through our contact page, and be sure to check out our awesome sponsors.
TOPICS
Looking for a show on a specific topic? Check these common tags or browse the full list of episodes below. We also have a growing number of topical playlists to explore.
academic challenges / Advanced Placement / accommodations / ACT / admissions / anxiety / cognitive science / college advising / college closeups / college essay / college finance / digital / education / executive function / gifted and talented / grades / graduate programs / grammar / high school / higher education / IEC profiles / marketing / math / mental health / neurodiversity / online testing / performance / reading / remote instruction / SAT / scholarships / score data / social media / sports / spotlights / standardized tests / standards / technology / testing / test optional / test prep / test prep industry / test prep profiles / test scores / tutoring
EPISODES
536. ALL ABOUT THE AMERICAN MATH COMPETITION with educator Vida John
535. MAKING TIME VISIBLE with educator Rebecca Rauscher
534. CHOOSING BETWEEN THE DIGITAL SAT AND THE ACT with educator Susan Powers
533. HOW IMPORTANT IS GPA IN COLLEGE ADMISSIONS? with educational consultant Susie Watts
532. ALL ABOUT DIGITAL SAT MATH with educator Mike McGibbon
531. WHEN IS DUAL ENROLLMENT A GOOD OPTION? with educator Amanda Sterk
530. HIGH SCHOOL INTERNSHIPS: WHAT YOU NEED TO KNOW with business development consultant Robert Khoury
529. HOW TO PAY FOR COLLEGE with college finance experts Dave Peterson and Dan Cieniewicz
528. BREAKING THROUGH TEST SCORE PLATEAUS with educator Shahar Link
527. DOES GROWTH MINDSET MATTER? with journalist Jill Barshay
526. ADMISSIONS NOTES FOR THE HS CLASS OF 2024 with educational consultant Rebecca Stuart-Orlowski
525. USING BRAIN SCIENCE TO HELP YOUR TEEN NAVIGATE THE COLLEGE PROCESS with counselor Samantha Straub
524. HOW TO BE SUCCESSFUL IN HIGH SCHOOL with educator Flo Brett
523. WHY THIS COLLEGE, WHY THIS MAJOR? with IEC Jodi Rosenshein Atkin
522. HOW THE DIGITAL SAT IS SCORED with educator Brenna O'Neill
521. TEST PREP PROFILE: Keith Brown
520. TEST PREP PROFILE: Maria Harmon
519. TEST PREP PROFILE: Kartik Sarda
518. TEST PREP PROFILE: Josh Kutchai
517. COLLEGES THAT OFFER THE BEST SCHOLARSHIPS AND FINANCIAL AID with educator Dr. Kuni Beasley
516. WHY STUDENTS SHOULD GET TO KNOW THEIR TEACHERS with educational consultant Dale Troy
515. TOP TIPS TO PASS YOUR STUDY VISA INTERVIEW with visa expert Ben Arterburn
514. WHY STUDENTS SHOULD STUDY IN THE UNITED STATES with educator Kathryn Suwa
513. DIVERSITY AND THE COLLEGE ESSAY with educator Dominique Padurano
512. NAVIGATING COLLEGE AND ADMISSIONS AS AN LGBTQ+ STUDENT with educational consultant Robert Powers
511. ANSWER TRAPS ON STANDARDIZED TESTS WITH educator Vinny Madera
510. THE W-CURVE MODEL AND NEW COLLEGE STUDENTS with educational consultant Lee Norwood
509. WHO LOSES WHEN WE ABOLISH ENTRANCE EXAMS? with educator Daniel Buck
508. EFFECTIVE STUDY SKILLS FOR TEST PREPARATION with educators Anna Solomon and Kailey Ossanna
507. THE NEW DIGITAL PSAT with educator and author Brian Stewart
506. REAL DIVERSITY IN COLLEGE ADMISSIONS with college advisor and author Andy Lockwood
505. IEC PROFILE: Deb Davis Groves
504. IEC PROFILE: Jenny Buyens
503. IEC PROFILE: Tonica Johnson
502. IEC PROFILE: Jen Nelson
501. IEC PROFILE: Nancy Steenson
500. CELEBRATING OUR 500TH EPISODE with guest host Brian Eufinger
499. COMPARING MOST POPULAR AND MOST LUCRATIVE COLLEGE MAJORS with policy expert Michael Itzkowitz
498. HOW TO BE A SUCCESSFUL COLLEGE FRESHMAN with educator Scott Lutostanski
497. HOW DO YOU KNOW IF YOU ARE READY FOR COLLEGE? with psychologist Tamir Rotman
496. 12 MUST-SEE SCHOLARSHIPS with scholarship expert Dave Peterson
495. ADMISSIONS CONSIDERATIONS FOR AVIATION MAJORS with college consultant Malinda Schantz
494. WHAT IS THE HIGHLANDS ABILITY BATTERY? with educator Marc Gray
493. HOW TO SPEAK TO A COLLEGE ADMISSIONS REP with educator John Durante
492. THE BETTER FAFSA FOR NEW & PREVIOUS FILERS with financial aid advisor Ed Recker
491. NAVIGATING COLLEGE AND ADMISSIONS AS A JEWISH STUDENT with college advisor Dana Ponsky
490. TEST PREP PROFILE: Mackenzie Lee
489. TEST PREP PROFILE: Stefanie Toye
488. TEST PREP PROFILE: Nick Rubin
487. TEST PREP PROFILE: Ingrid Moats
486. TEST PREP PROFILE: Jim Shaver
485. COMMON MISTAKES IN APPLYING FOR ACT ACCOMMODATIONS with accommodations expert Bailey Graham
484. WHAT IS SOCIAL AND EMOTIONAL LEARNING? with educator Andy Tucker
483. TUTORING IN THE AGE OF ARTIFICIAL INTELLIGENCE with educator Blake Jensen
482. COLLEGE ESSAYS IN THE AGE OF ARTIFICIAL INTELLIGENCE with Barak Rosenbloom
481. HOW STRESS AFFECTS TEST PERFORMANCE with psychologist Ben Bernstein
480. HOW STANDARDIZATION CAN BENEFIT EDUCATION with educator Mike McGibbon
479. SPONSOR SPOTLIGHT: National College Affordability Group
478. ADMISSIONS CONSIDERATIONS FOR MUSICIANS with educational consultant Christine Gangelhoff
477. THE PROBLEM WITH GRADES with professor and author Laura Link
476. THE NEW DIGITAL SAT EXPERIENCE: A STUDENT PERSPECTIVE with high schooler Fatema Taskin
475. COMPETITIVE MINDSET IN TESTING with educator Steven Menking
474. ARTIFICIAL INTELLIGENCE AND ACADEMIC INTEGRITY with writer Derek Newton
473. THE FLUTIE EFFECT IN ADMISSIONS with educator Christopher Sanderson
472. GETTING READY FOR THE AP LANGUAGE EXAM with educator Christy Shriver
471. GETTING READY FOR THE AP US HISTORY EXAM with educator Greg Hudson
470. GETTING READY FOR THE AP STATISTICS EXAM with educator Kyle Terracciano
469. GETTING READY FOR THE AP PSYCHOLOGY EXAM with educator Garry Shriver
468. GETTING READY FOR THE AP CHEMISTRY EXAM with educator Tim Murphy
467. SPONSOR SPOTLIGHT: Pencil Spaces
466. IEC PROFILE: Shannon Bergeron
465. IEC PROFILE: Chris Bell
464. IEC PROFILE: Gerene Keesler
463. IEC PROFILE: Mike Hammer
462. IEC PROFILE: Jessica Chermak
461. HOW TESTS AID MEMORY with researcher Ayanna Thomas
460. COLLEGE ADVISING FOR B STUDENTS with college advisors Katie Garrett and Melanie Talesnick
459. SPONSOR SPOTLIGHT: Speechcloud
458. EXPLORING ASSUMPTIONS ABOUT PUBLIC EDUCATION with professor Ashley Berner
457. CULTIVATING TEEN SELF-ESTEEM with life coach Nellie Harden
456. TEXT TO SPEECH LEARNING TOOLS with educator Ginger Dewey
455. WHAT TO DO WHEN A STUDENT STRUGGLES IN COLLEGE with college consultant Beth Howland
454. READING SCIENCE PASSAGES ON THE SAT & ACT with educator Elizabeth Breau
453. JEANNE LUCAS MEMORIAL SCHOLARSHIP with members of the National Test Prep Association
452. SPONSOR SPOTLIGHT: Golisano Institute
451. THE UPSIDES OF RAPID CHANGES IN EDUCATION with college consultant Cyndy McDonald
450. COMMON MISTAKES IN COLLEGE SELECTION with college counselor Shellee Howard
449. SPONSOR SPOTLIGHT: ScoreSmart with educators Sonya Muthalia and Neill Seltzer
448. CONTROVERSIES AROUND NEW AP PROGRAMS with educator John Moscatiello
447. SELECTING YOUR FOREVER SCHOOL with tech entrepreneur Dave Hurwitt
446. SPONSOR SPOTLIGHT: TestBright Curriculum System
445. THE UNWRITTEN RULES OF COLLEGE SUCCESS with educator and author Jay Phelan
444. WHY TESTS MATTER: STUDENT PERSPECTIVES with students from Eufaula HS and educator Olivia Jones
443. COLLEGE CLOSEUP: Hobart and William Smith Colleges
442. TEST PREP PROFILE: Josh D'Alemberte
441. TEST PREP PROFILE: Kelly Finn
440. TEST PREP PROFILE: Samiya Cogmon
439. TEST PREP PROFILE: Greg Hudson
438. TEST PREP PROFILE: Stacey Howe-Lott
437. GAME-BASED LEARNING with educator Julie Post
436. ASSESSING COLLEGE FINANCIAL VIABILITY with educational analyst Gary Stocker
435. USING SPACED REPETITION FOR STUDY SUCCESS with educational entrepreneur Tyler York
434. FINDING YOUR AUTHENTIC SELF IN THE PATH TO COLLEGE with author Tracy Badua
433. COLLEGE ADMISSIONS CONSIDERATIONS FOR AUTISTIC STUDENTS with educational consultant Eric Endlich
432. TESTING GAME PLAN FOR THE CLASS OF 2025 with educator Brian Eufinger
431. FOUR SCHOLARSHIP MYTHS with scholarship expert Jocelyn Paonita Pearson
430. DEBUNKING LEARNING STYLES with data scientist Stanislaw Pstrokonski
429. IEC PROFILE: Maria and Tom Geffers
428. IEC PROFILE: Wendie Lubic
427. IEC PROFILE: Dana Ponsky
426. IEC PROFILE: Kristin Cocquyt
425. HAPPY AND RELAXED TEENS OMNIBUS with assorted experts
424. MATCHING TYPES OF STUDENTS TO TYPES OF SCHOOLS with a collection of college experts
423. TEST SCORES: TO SUBMIT OR NOT with college counseling expert Judi Robinovitz
422. INVESTING FOR COLLEGE with financial planner John Skomski
421. SPONSOR SPOTLIGHT: Summit Prep with educators Eva Addae and David Blobaum
420. WHAT TO DO WHEN A TEST SCORE DISAPPOINTS with educator Brooke Hanson
419. DESTRESSIFYING THE COLLEGE ADMISSIONS PROCESS with school counselor Candace McMahon
418. COLLEGE CLOSEUP: Niagara University
417. TEST PREP PROFILE: Meredith Bagwill
416. TEST PREP PROFILE: Kailey Ossanna
415. TEST PREP PROFILE: Kuni Beasley
414. TEST PREP PROFILE: Jeff Eisenberg
413. TEST PREP PROFILE: Huzefa Kapadia
412. HOW TO BE AN INNOVATIVE EDUCATOR with educator Barak Moore
411. CONSIDERING COLLEGE FINANCIAL FIT FIRST with college consultant Chris Wills
410. FEEDBACK-DRIVEN METACOGNITION with educator Patrice Bain [transcript]
409. WHY PRACTICE TESTS MATTER SO MUCH with educator Paul Pscolka [transcript]
408. SPONSOR SPOTLIGHT: Clear Choice Prep with educator Matt McCorkle
407. MAKING THE MOST OF COLLEGE SUPPORT SYSTEMS with educator Perry LaRoque [transcript]
406. WHAT DOES UNHOOKED MEAN IN ADMISSIONS? with educational consultant Aly Beaumont [transcript]
405. ALL ABOUT THE MCAT with educational consultant Shirag Shemmassian
404. MOST COMMON QUESTIONS ABOUT MERIT AID with educational consultant Nancy Paul
403. WHICH COLLEGE RANKINGS CAN YOU TRUST? with professor Jed Macosko
402. HOW DO I MOTIVATE MY STUDENT? with educator Sean McCormick
401. HOW TO IMPROVE FUTURE MEMORY with educator Andrew Watson
400. WHY UC WAS WRONG TO STOP USING THE SAT with professor Donald Wittman
399. SPONSOR SPOTLIGHT: The Good College with admissions advisor Stuart Nachbar
398. US NEWS & WORLD REPORT COLLEGE RANKINGS with journalist Sarah Wood
397. HOW AND WHY TO MANAGE YOUR PROCTOR with educator Rob Pollak
396. BUILDING HAPPIER TEENS with pediatrician Hansa Bhargava
395. IMPROVING ADMISSIONS TESTS with professor Robert Sternberg
394. TEST PREP PROFILE: Erin Billy
393. TEST PREP PROFILE: Emily Raphael
392. TEST PREP PROFILE: Luis Smith-Rosario
391. TEST PREP PROFILE: Patricia Brown
390. TEST PREP PROFILE: Andre Kiss
389. FINANCIAL LITERACY ESSENTIALS FOR STUDENTS with educator Isabel De La Cruz
388. EFFECTIVE SCHOOL LEADERSHIP with educator Beth Plunkett
387. SPONSOR SPOTLIGHT: Integrated Acceleration System
386. HOW TO TELL THE IVIES APART with educational consultant Marlena Corcoran
385. NEW INSIGHTS INTO LITERACY with educator Dr. Linda Hirsch
384. WHAT IS THE SSAT? with educator Kelly Frindell
383. SHOULD YOU PREPARE FOR THE PSAT? with educator Brian Stewart
382. IEC PROFILE: Kate Sonnenberg
381. IEC PROFILE: Marcy Fischer
380. IEC PROFILE: Ibrahim Firat
379. IEC PROFILE: Tara Niemi
378. IEC PROFILE: Lisa Barrett
377. HOW TO BECOME A RIDICULOUSLY EFFECTIVE STUDENT with author Brad Smith
376. NEW SAT TEST SPECIFICATIONS with educators Neill Seltzer and Sonya Muthalia
375. SPONSOR SPOTLIGHT: CSP Worx
374. HOW TO BREATHE DURING STRESSFUL ACADEMIC SITUATIONS with educators Claire Russell and Erin Brenneman
373. SMALL GROUP CLASSES VS 1-1 TUTORING FOR SAT & ACT PREP with educator Dominique Padurano
372. MAKING LEARNING SCIENCE WORK FOR YOU with educator Mike McGibbon
371. HOW STUDENT RESEARCH IMPACTS COLLEGE ADMISSIONS with researcher Stephen Turban
370. SPONSOR SPOTLIGHT: Dog Star Prep
369. ADMISSIONS NOTES FOR THE CLASS OF 2023 with educational consultant Rebecca Stuart-Orlowski
368. HOW TO READ A PSYCH-ED REPORT with clinical psychologist Scott Hamilton
367. TEST PREP PROFILE: Valerie Erde
367. TEST PREP PROFILE: Rob Margolis
365. TEST PREP PROFILE: Blaire Richter
364. TEST PREP PROFILE: Michael ElDeiry
363. SPONSOR SPOTLIGHT: Launch College & Career Clarity Course
362. COVID LEARNING LOSS with educator Pranoy Mohapatra
361. UNDERSTANDING YOUR COLLEGE TUITION BILL with college funding advisor Liane Crane
360. FINDING YOUR COLLEGE FIT with ed tech entrepreneurs Eric Menna and Sam Bernstein
359. FAST AND SLOW LEARNERS with professor and author Barbara Oakley
358. SPONSOR SPOTLIGHT: SoFlo Tutors
357. LONG-TERM PLANNING FOR COLLEGE ADMISSIONS with educator and podcaster Ryan Tibbens
356. HOW EXECUTIVE FUNCTIONING PROCESSES IMPACT LEARNING with educator Natallia Kohut
355. IEC PROFILE: Laurie Kopp Weingarten
354. IEC PROFILE: Karan Shah
353. IEC PROFILE: Sheree Gravely
352. IEC PROFILE: Steve Gardner
351. IEC PROFILE: Marni Levine
350. SPONSOR SPOTLIGHT: MindFlow
349. FITTING IN AND STANDING OUT with educational consultant Linda Abraham
348. WHAT IS THE IELTS? with educator Fiona Wattam
347. ATTENDING A SMALL COLLEGE with admissions expert V. Peter Pitts
346. TUTORING FOR TEENS WITH ADHD with educator Jenn Cohen
345. SPONSOR SPOTLIGHT: TuitionFit Collaborative
344. RED FLAGS IN COLLEGE SELECTION with college consultant Vielka Hoy
343. TRACKING TIME ON STANDARDIZED TESTS with educational consultant Dustin Claretto
342. WHY COLLEGE READINESS MATTERS with author and researcher Michael Petrilli
341. COURSE SELECTION FOR HIGHLY SELECTIVE ADMISSIONS with educational consultant Aly Beaumont
340. SPONSOR SPOTLIGHT: Test Prep Wizards Score Reporting
339. TEST PREP PROFILE: Anna Gazumyan-Silverman
338. TEST PREP PROFILE: Joanna Dean
337. TEST PREP PROFILE: Ethan Kopelman
336. TEST PREP PROFILE: Melissa Jumbeck
335. TEST PREP PROFILE: John Henrikson
334. APPLYING TO A COLLEGE IN THE UC SYSTEM with educator Josefine Borrmann
333. WHEN SHOULD YOU TAKE THE SAT OR ACT? with educator Jim Reinish
332. SPONSOR SPOTLIGHT: Mathchops
331. TRACKING STUDENT COMMUNITY SERVICE with ed tech entrepreneur Michele Pitman
330. COLLEGE ADMISSIONS CONSIDERATIONS FOR STUDENTS WITH PHYSICAL CHALLENGES with college consultant Annie Tulkin
329. HOW PROCTORS CAN REDUCE TEST ANXIETY with ed tech executive Jordan Adair
328. CONCERNS ABOUT COLLEGE STAFFING TRENDS with independent counselor Jane Gabin
327. TEST PREP PROFILE: Tom Ehlers
326. TEST PREP PROFILE: Julie Blumenfeld
325. TEST PREP PROFILE: Julie Post
324. TEST PREP PROFILE: Justin Menda
323. TEST PREP PROFILE: Olivia Jones
322. RETURN ON INVESTMENT IN COLLEGE with researcher Martin Van Der Werf
321. IMPROVING READING SKILLS WITH STRUGGLING TEENS (PART 2) with author Erica Meltzer
320. COLLEGE ADMISSIONS INSANITY with authors Tracy Dobmeier and Wendy Katzman
319. WHAT EDUCATORS SHOULD UNDERSTAND ABOUT GENDER with gender specialist Rebecca Minor
318. YIN AND YANG IN COLLEGE ADMISSIONS with educator Belle Liu
317. WHAT IS THE TOEFL? with testing expert Michael Knab
316. IEC PROFILE: Eileen Sullivan Studdert
315. IEC PROFILE: Lisa Hillhouse
314. IEC PROFILE: Stuart Nachbar
313. IEC PROFILE: Barbara Pasalis
312. IEC PROFILE: Lee Norwood
311. IMPROVING READING SKILLS WITH STRUGGLING TEENS (PART 1) with author Erica Meltzer
310. LETTERS OF CONTINUED INTEREST with educator Brooke Hanson
309. HOW TO PREPARE FOR A COLLEGE ADMISSIONS INTERVIEW with author Richard Montauk
308. NEGOTIATING A FINANCIAL AWARD LETTER with college cost advocate Mark Salisbury
307. WHY YOU WANT TO LEARN FROM A CAREER TUTOR with educator Anthony Celino
306. PSYCHOGRAPHICS IN COLLEGE ADMISSIONS with educational consultant David Viggiano
305. OVERLOOKED ASPECTS OF CAMPUS LIFE with educational expert Moira McCullough
304. WHAT IS A NET PRICE CALCULATOR? with researcher Laura W. Perna
303. TEST PREP PROFILE: Shayda Moshirvaziri
302. TEST PREP PROFILE: Blake Shealy
301. TEST PREP PROFILE: Manjri Gupta
300. TEST PREP PROFILE: Travis Minor
299. TEST PREP PROFILE: Ashley Boggs
298. WHY REMOTE TUTORING IS HERE TO STAY with educator Adam Snoza
297. COMMON MISTAKES IN SCHOLARSHIP APPLICATIONS with educational consultant Sherri Graf
296. SELF-ADVOCACY IN EDUCATION AND ADMISSIONS with educator Barak Moore
295. WOULD ELIMINATING TESTS MAKE EDUCATION MORE EQUITABLE with researcher Adam Tyner
294. FLORIDA BRIGHT FUTURES SCHOLARSHIP with experts Carrie Bedard and Jason Robinovitz
293. THE CASE FOR TUITION-FREE COLLEGE with author Morley Winograd
292. IEC PROFILE: Parke Muth
291. IEC PROFILE: Sandy Andolsek
290. FIRST THOUGHTS ABOUT THE NEW DIGITAL SAT with educator Brooke Hanson
289. IEC PROFILE: Alan Sheptin
288. IEC PROFILE: Kristina Dooley
287. IEC PROFILE: Zach Galin
286. ALL ABOUT THE LSAT with educator David Lynch
285. WHAT DO COLLEGES KNOW ABOUT APPLICANTS? with educational consultant Matthew Herr
284. EDUCATIONAL SERVICES PRICING MODELS with educator Dave Crystal
283. WHY GIFTED PROGRAMS ARE UNDER ATTACK with author and editor Brandon Wright
282. EARNING ADVANCE COLLEGE CREDIT with educator David Vise
281. HISTORY AND FUTURE OF THE TATR SUMMITS with educator Dan Ascher
280. TEST PREP PROFILE: Pranoy Mohapatra
279. TEST PREP PROFILE: Nikki Highfield
278. TEST PREP PROFILE: Steve Feldman
277. TEST PREP PROFILE: Alice Humbracht
276. TEST PREP PROFILE: Ian Siegel
275. ALTERNATIVE PRICING STRATEGIES IN HIGHER EDUCATION with educational consultant Rick Staisloff
274. HOW TO PREPARE FOR SAT MATH with educators Jackie Pollina and Josh Kariyev
273. DISTANCE LEARNING IN HIGHER EDUCATION with ed tech consultant Phil Hill
272. ACADEMIC SUCCESS FOR NEURODIVERGENT STUDENTS with counselor Emily Kircher-Morris
271. SHOULD I TAKE THE ACT WRITING TEST? with educator Brian Eufinger
270. ATTENDING A COLLEGE IN CANADA with immigration consultant Brandon Miller
269. CHEATING AND PLAGIARISM SOFTWARE with ed tech executive Eric Gibbs
268. MYTHS ABOUT TESTING AND COLLEGE SPORTS with educator Jen Henson
267. WHEN BORROWING FOR SCHOOL IS A BAD IDEA with college cost advocate Mark Salisbury
266. WHAT IS THE ISEE? with educator Brenna O'Neill
265. IEC PROFILE: Kevin Newton
264. IEC PROFILE: Aly Beaumont
263. IEC PROFILE: Steven Mercer
262. IEC PROFILE: Julie Kim
261. IEC PROFILE: Phil Black
260. ACT READING REPORTING CATEGORIES with educator Cody Eadie
259. TUTORING TREASURES: TIPS FOR TEACHING TEENS with educator Mary Thomas
258. AVOIDING THE PAGEANT APPROACH TO COLLEGE ADMISSIONS with educator Neill Seltzer
257. BIG TESTS AS FATEFUL RITES OF PASSAGE with author and professor Zachary Howlett
256. LEVELING THE PLAYING FIELD with educator and author Michael Marlowe
255. COMPETITIVE MATH AND TESTING with educator Vida John
254. USING THE COMMON DATA SET with educator Shane Bybee
253. THE UNEXPECTED ALLURE OF THE MOST EXPENSIVE COLLEGES with reporter Hilary Burns
252. ARE IQ TESTS VALID with data scientist Stanislaw Pstrokonski
251. SUCCESS IN COMPUTER-BASED TESTING with educator Sonya Muthalia
250. TEST PREP PROFILE: Anna Solomon
249. TEST PREP PROFILE: Adam Snoza
248. TEST PREP PROFILE: Leia LeMaster Horton
247. TEST PREP PROFILE: Alex Chip
246. TEST PREP PROFILE: Jen Henson
245. WHERE MODERN EDUCATION FAILS with educator and author Shane Trotter
244. TOP LESSONS FOR ACT SCIENCE with educator Robin Satty
243. WHAT IS THE SHSAT? with educator Kenny Tan
242. HOW TO WRITE A STANDOUT LETTER OF RECOMMENDATION with author Becky Munsterer Sabky
241. THE FUTURE OF AP EXAMS with educator John Moscatiello
240. DEMOGRAPHIC TRENDS AND COLLEGE ADMISSIONS with higher education professional Chris Lucier
239. THE TRUTH ABOUT STUDENT LOAN DEBT with education professional Alex Robie Harris, Ed.D.
238. OVERWORKED SCHOOL COUNSELORS with college consultant Daniel Santos
237. VOCABULARY ON THE SAT & ACT with educator Michelle Rotteau
236. TECHNOLOGY AS AN ENABLER IN EDUCATION with tech professional Al Kingsley
235. TEST PREP PROFILE: Lori Tofexis
234. TEST PREP PROFILE: Jim Wismer
233. TEST PREP PROFILE: Marina Yalon
232. TEST PREP PROFILE: Alex Robayo
231. TEST PREP PROFILE: Susan Powers
230. WHAT IS THE HSPT? with educator Christine Carroll
229. HELPING TEENS FIND MOTIVATION AND INSIGHT with authors William Stixrud, Ph.D. and Ned Johnson
228. THE VALUE OF EXPERIENCE IN TEACHERS with educator Jonathan Arak
227. STRATEGIES FOR SELECTING A COLLEGE MAJOR ON TIME with educator Lisa Marker-Robbins
226. HOW TO BUILD RELATIONSHIPS WITH COLLEGES with admissions consultant Aviva Legatt
225. CALCULATOR USAGE ON THE SAT AND ACT with educators Vinny Madera and Tony Miglio
224. ALTERNATIVES TO MULTIPLE CHOICE with assessment expert Brian Moon
223. GETTING READY FOR GRADUATE SCHOOL with educational consultant Linda Abraham
222. DO COLLEGES CARE ABOUT THEIR APPLICANTS? with IEC and author Kevin Martin
221. THE BENEFITS OF JOINING A FRATERNITY with fraternity director Brian Bertges
220. ACT TIR & SAT QAS with educator Haley Seeley
219. GETTING OFF THE COLLEGE WAITLIST with college admissions counselor Carolyn Pippen
218. HELPING TEENS FIND THEIR VALUES AND PURPOSE with educational consultants Beth and Greg Langston
217. WHY PROFESSIONALISM IN TUTORS MATTERS with educational coach Joanne Kaminski
216. PROS AND CONS OF WRITING AN EDUCATIONAL BOOK with educator and author George Rimakis
215. GETTING INTO MEDICAL SCHOOL with educational consultant Shirag Shemmassian, Ph.D
214. HELPING TEENS FIGHT PROCRASTINATION with academic coach Maggie Wray, Ph.D.
213. TEST PREP YOUTUBE with educator Brooke Hanson
212. PREPARATION FOR HIGHLY SELECTIVE COLLEGE ADMISSIONS with educational consultant Aly Beaumont
211. FIVE MYTHS ABOUT ADMISSIONS TESTS with author and academic Freddie deBoer
210. TEST PREP PROFILE: Sheri Elmore
209. TEST PREP PROFILE: Vince Kotchian
208. TEST PREP PROFILE: Robin Satty
207. TEST PREP PROFILE: Alexis Avila
206. TEST PREP PROFILE: Laura Link
205. WORLD TUTORS' DAY with educators Julia Silver and Ludo Millar
204. COMPARING PAPER- AND COMPUTER-BASED TESTING with researcher Benjamin Backes
203. HIGH-PRIORITY SAT AND ACT TOPICS with educator Jennifer Winward
202. CRAFTING YOUR COLLEGE RESUME with college counseling expert Judi Robinovitz
201. HOW COLLEGE BOARD AND ACT ARE CHANGING with journalist Jon Marcus
200. EXECUTIVE FUNCTION AND ADD/ADHD with academic coach Wendy Weinberger
199. CHOOSING BETWEEN AP AND IB PROGRAMS with educators Garry and Christy Shriver
198. WHAT TO EAT AND NOT EAT FOR TEST DAY with dietitian nutritionist Hannah Byrne
197. ALL ABOUT THE GRE with educator Vince Kotchian
196. CREATING A PASSION PROJECT with educational consultant Julie Kim
195. TEST PREP PROFILE: Shane Bybee
194. TEST PREP PROFILE: Ariel Lieberman
193. TEST PREP PROFILE: Christopher Sanderson
192. TEST PREP PROFILE: Carmen Fernández
191. TEST PREP PROFILE: Scott Greenspan
190. THE PRICE YOU REALLY PAY FOR COLLEGE with author and columnist Ron Lieber
189. THE GROWING IMPACT OF CHEATING DURING COVID with testing expert Jarret Dyer
188. HOW SAT AND ACT SCORES HIGHLIGHT EDUCATIONAL INEQUITY with educator Eva Addae
187. WHAT IS SCHOLARSHIP DISPLACEMENT? with scholarship expert Ken Downs
186. GETTING INTO BUSINESS SCHOOL with test prep professional Brett Ethridge
185. INCORPORATING TEST PREP INTO THE HIGH SCHOOL CLASSROOM with educator Laura Link
184. DEMONSTRATING LEADERSHIP IN COLLEGE APPLICATIONS with educational consultant Lt. Col. Lisa Hillhouse
183. THE ROLE OF PARENTS IN THE COLLEGE PROCESS with educational planner Kristina L. Dooley
182. TEST PREP TIKTOK with educators Jackie Pollina and Josh Kariyev
181. CLARITY IN EDUCATIONAL RELATIONSHIPS with educational coach Michael Gibben
180. THE HEIGHTENED NEED FOR TESTING IN 2021 with author and researcher Mike Petrilli
179. USING AND CREATING EDUCATIONAL WEBSITES with programmer and educator Don Sevcik
178. TO IB OR NOT TO IB with college coach Kim Raybuck
177. ATHLETIC RECRUITING TRENDS IN 2021 with educational consultant Chad Dorman
176. TEST PREP PROFILE: Silvia Eufinger
175. TEST PREP PROFILE: Jeanne Lucas
174. TEST PREP PROFILE: Jason Robinovitz
173. TEST PREP PROFILE: David Lynch
172. TEST PREP PROFILE: Mary Thomas
171. EDTECH IN 2021: SEPARATING FADS FROM SUSTAINABLE CHANGES with research consultant John Clark
170. THE 4 P'S OF STUDENT ENGAGEMENT with educator Julia Silver
169. THE SAT AND ACT ARE CLASSIST NOT RACIST with educator Ted Dorsey
168. EXECUTIVE FUNCTION IN TEENS with educational coach Jothsna Kethar
167. THE NECESSITY OF GIFTED AND TALENTED PROGRAMS with educator and author Tai Abrams
166. INNOVATIVE PARTNERSHIPS IN HIGHER EDUCATION with higher education expert Daan Braveman
165. DIFFERENCES BETWEEN SAT AND ACT MATH with educator Mike McGibbon
164. DON'T SHOOT THE MESSENGER: WHAT TESTING TELLS US with education writer Natalie Wexler
163. DO COLLEGE MAJORS MATTER? with admissions expert V. Peter Pitts
162. HIGH SCHOOL COURSE SELECTION AND ACADEMIC RIGOR with educational consultant Phil Black
161. MAKING ONLINE TUTORING MATTER MORE with educator Christopher Sanderson
160. DEMONSTRATING INTEREST DURING VIRTUAL COLLEGE TOURS with educational consultant Jodi Rosenshein Atkin
159. ACT MATH REPORTING CATEGORIES with educator Adam Snoza
158. THE MAKING CARING COMMON PROJECT with educator Glenn Manning and college counselor Brennan E. Barnard
157. ADVOCACY FOR PARENTS OF HIGH SCHOOLERS with parent coach and podcaster Punam Saxena
156. TRANSPARENCY IN COLLEGE ADMISSIONS with educational consultant Steven Mercer, Ed.D.
155. TEST PREP PROFILE: Rob Pollak
154. TEST PREP PROFILE: Kenny Tan
153. TEST PREP PROFILE: Paul Pscolka
152. TEST PREP PROFILE: Claudia Chesler
151. TEST PREP PROFILE: Edward Antoine
150. WINNING THE GAME OF SCHOOL with educational entrepreneur Steve Hargadon
149. HOW THE ACT IS ACTUALLY SCORED with ACT Lead Psychometrician Jeffrey Steedle
148. STOP MAKING $EN$E: THE INTERNATIONAL STUDENT PROBLEM with college admissions expert Parke Muth
147. WHAT TO CHECK BEFORE SUBMITTING THAT COLLEGE APPLICATION with educational consultant Ben Marley
146. ACT ENGLISH REPORTING CATEGORIES with educator Jason Derby
145. WHY SELECTIVE SPECIALIZED SCHOOLS MATTER with educator Frances Kweller
144. TRACKING COLLEGE AND CAREER READINESS with researchers Lynne Graziano and Chad Aldeman
143. THE IMPACT OF NACAC ADMISSIONS CHANGES with associate dean of college counseling Patrick O'Connor, Ph.D.
142. DEPTH OF KNOWLEDGE LEVELS ON THE SAT AND ACT with educational consultant Erik Francis
141. TRACKING TEST SCORE DATA with test prep wizard Vinny Madera
140. SOCIAL STUDIES INSTRUCTION AND READING COMPREHENSION with researcher Adam Tyner
139. BUILDING AN A+ EXTRACURRICULAR RESUME with admissions expert Judi Robinovitz
138. INTRODUCING THE NATIONAL TEST PREP ASSOCIATION with members of the NTPA Board of Directors
137. HOW TESTS DRIVE LEARNING with educator Travis Koutsoubos-Miles
136. THE IMPACT OF SKIPPING A GRADE ON STUDENTS with educator Ann Lupkowski-Shoplik
135. ADMISSIONS INSIGHTS FOR HIGHLY SELECTIVE UNIVERSITIES with educational consultant John Morganelli Jr
134. RECEIVING TESTING ACCOMMODATIONS with educator Wendy Haynes
133. ATTENDING A CHRISTIAN COLLEGE with educational consultant Mark Cruver
132. THE SCIENCE OF MEMORY with education professional Nancy Weinstein
131. SELF-PREP FOR THE SAT & ACT with test prep professional Brian Eufinger
130. THE ACADEMIC INTEGRITY ARMS RACE with education tech expert Gretchen Hanson
129. REINVENTING THE HIGH SCHOOL TRANSCRIPT with educator and author Jonathan E. Martin
128. 529 COLLEGE SAVINGS PLANS with financial expert John Hupalo
127. BUILDING EFFECTIVE SCHOOL PARTNERSHIPS with test prep professional Rhett Barbour
126. SHAPING AN ADMISSIONS CLASS with author Jeff Selingo
125. THE HISTORICAL MISSION OF THE SAT with educator and author Anthony P. Carnevale
124. ATTENDING A LIBERAL ARTS COLLEGE with Kenyon admissions officer Ellen Turner
123. WHAT IS THE CLT? with education professional Jeremy Tate
122. ADVANTAGES OF DUAL ENROLLMENT with financial expert Rocky Lalvani
121. WRITING RHETORICALLY IN ADMISSIONS ESSAYS with educator and podcaster Ryan Tibbens
120. MAKING THE MOST OF A VIRTUAL COLLEGE ADMISSIONS EVENT with admissions consultant Jessie Peck Martin
119. HOW TEST PREP PROS AND FINANCIAL PLANNERS CAN WORK TOGETHER with educator and consultant Lisa Marker-Robbins
118. ATTENDING A MILITARY SERVICE ACADEMY with admissions officer Major Kendrick Vaughn
117. LESSONS LEARNED BY OFFERING A SCHOLARSHIP with author Monica Matthews
116. THE ROAD TO A PERFECT SCORE with author and educator Debbie Stier
115. COMMUNITY COLLEGES IN THE TIME OF COVID-19 with Cuyahoga Community College Director Heidi Nicholas
114. COLLEGE DECLASSIFIED: WHAT HIGH SCHOOLERS SHOULD KNOW ABOUT THE NEXT LEVEL with advocate and podcaster Justin Dzuy Nguyen
113. NAVIGATING AN IEP OR 504 PLAN with special education advocate Mary Jo O'Neill, M.Ed.
112. GAP YEAR ALTERNATIVES DURING COVID with entrepreneur Megan O'Connor
111. DO TEST OPTIONAL POLICIES DRIVE EQUITY? with student advocate Dr. Yoon S. Choi
110. TUTOR SELF-CARE (Tests and the Rest Summit Panel)
109. ESSENTIALS OF CLIENT-TEACHER COMMUNICATION (Tests and the Rest Summit Panel)
108. HOW IECS AND TEST PREP PROFESSIONALS CAN WORK TOGETHER (Tests and the Rest Summit Panel)
107. WHY OPTIONAL STATEMENTS AREN'T OPTIONAL with Tulane admissions director Jeff Schiffman
106. BENEFITS OF SCHOOL DAY TESTING with school counselor Larry Mandernach
105. HOW DOES REMOTE PROCTORING ACTUALLY WORK? with ProctorU executive Ashley Norris
104. APPLYING TO A MILITARY ACADEMY with educational consultant Lisa Hillhouse
103. USING STUDENT SELF-ANALYSIS TO IMPROVE INSTRUCTION with test prep professional Phil McCaffrey
102. WHY TESTING STANDARDS MATTER with educator and nurse practitioner Latrina Walden
101. UPSIDE OF A SEMESTER ONLINE with college counselor Tim Lear
100. 2019-20 ACADEMIC YEAR IN REVIEW with test prep professional Brian Eufinger
99. DIFFERENCES BETWEEN SAT AND ACT READING with author Erica L. Meltzer
98. DELIVERING EDUCATION AND ADMISSIONS MESSAGING ONLINE with marketing expert Mario Ronci
97. TEST PREP FOR STUDENTS WITH ACCOMMODATIONS with test prep professional Scott Clyburn
96. COLLEGE ADMISSIONS FOR TWICE-EXCEPTIONAL LEARNERS with licensed professional counselor Emily Kircher-Morris
95. THE ULTIMATE COLLEGE STRESS TEST with consultant and author Susan Baldridge
94. FAMILY CONVERSATIONS ABOUT COLLEGE ADMISSIONS with author and admissions professional Rick Clark
93. LETTERS OF RECOMMENDATION: GOOD VS. GREAT with college admissions counselor Benjamin Caldarelli
92. SPORTS RECRUITING IN THE TIME OF COVID with college consultants David Stoeckel and Katie Andersen
91. COLLEGE ADMISSIONS FOR HOMESCHOOLERS with educational consultant Barbara Hettle
90. 50-50 COLLEGES AND THE PERFECT LIST with college admissions expert Michelle Kretzschmar
89. DIFFERENT WAYS TO LOOK AT TEST SCORE INCREASES with test prep professional Evan Jones
88. WHAT YOU NEED TO KNOW ABOUT THE FAFSA & CSS PROFILE with financial aid consultant Kevin Angney
87. OBSERVATIONS OF A TEST SITE SUPERVISOR with test center supervisor Tom Carey
86. DECIDING BETWEEN THE SAT AND ACT, PART 2 with test prep professional Heather Krey
85. TRANSITIONING YOUR IEP OR 504 PLAN TO COLLEGE with academic support professionals Mary Jo Levand and Julie Szwejkowski
84. HIGH IMPACT STRATEGIES TO HELP STUDENTS SUCCEED IN MATH with author and educator Allison Dillard
83. WHO BENEFITS MOST FROM TEST OPTIONAL POLICIES? with admissions counselor Stacey Cunitz
82. THE INNER GAME OF TESTING with test prep professional Brett Ethridge
81. YOU CAN'T HANDLE THE TRUTH: SECRETS OF COLLEGE ADMISSIONS with college admissions expert Parke Muth
80. CREATING A HOMESCHOOL PLAN DURING A CRISIS with educator and author Ned Johnson
79. WHY THE SAT AND ACT ARE AWESOME with test prep professional David Blobaum
78. WHAT EXACTLY IS A GOOD COLLEGE? with admissions advisor Stuart Nachbar
77. EARLY DECISION AND EARLY ACTION with college president and author Michael T Nietzel
76. COLLEGE ADMISSIONS DURING A GLOBAL PANDEMIC with college counselor Brennan E. Barnard
75. ACT SUPERSCORING AND SECTION RETESTING with ACT Senior Director in Research Krista Mattern
74. COLLEGE ADVISING AND PREP BY VIDEOCONFERENCE with educational consultant Jona Jacobson
73. VIRTUAL COLLEGE TOURS with CampusReel cofounders Rob Carroll and Nick Freud
72. WHAT SAT & ACT DIAGNOSTIC TESTS CAN TELL YOU with test prep professional David Phelps
71. ATTENDING A WOMEN'S COLLEGE with admissions director Catarina Costa
70. TABOO ESSAY TOPICS with college admissions expert Sally Rubenstone
69. WHAT EVERY PRE-MED MAJOR SHOULD KNOW with author Elisabeth Fassas
68. COMMON TESTING MISTAKES AND HOW TO AVOID THEM with test prep professional Michael Jordan
67. DOES COLLEGE ENGAGEMENT MATTER MORE THAN SELECTIVITY? with lecturer and author Denise Pope
66. HOW TO WIN LOCAL SCHOLARSHIP AWARDS with author Monica Matthews
65. IN DEFENSE OF STATE TESTS with researcher and consultant Glynn D. Ligon, Ph.D
64. WHY TAKE A GAP YEAR? with association executive Ethan Knight
63. NEW OPTIONS FOR THE ACT with ACT National Director of K-12 Lisa Wolf
62. LOOKING FOR A FULL RIDE with coach and author Renee Lopez
61. ATTENDING AN HISTORICALLY BLACK COLLEGE OR UNIVERSITY with Howard University Associate Provost Anthony Jones
60. LEGAL ISSUES FOR EDUCATIONAL ENTERPRISES (PART 2) with attorney Matthew K. Seeley
59. LEGAL ISSUES FOR EDUCATIONAL ENTERPRISES (PART 1) with attorney Matthew K. Seeley
58. KEEPING STUDENT DATA PRIVATE with Leonie Haimson, co-founder of Parent Coalition for Student Privacy
57. ATTENDING UNIVERSITY IN EUROPE with international educational consultant Kevin Newton
56. EMERGING TRENDS IN SAT AND ACT CONTENT with Evan Wessler of Method Learning
55. REDUCING FRICTION IN THE COLLEGE ADMISSIONS PROCESS with author and consultant Roger Dooley
54. WHAT YOU NEED TO KNOW ABOUT STUDENT LOANS with Elaine Rubin, financial aid expert at Edvisors
53. GALLUP ALUMNI SURVEY AND THE SIX COLLEGE EXPERIENCES THAT DRIVE SUCCESS with research consultant John Clark
52. TEST SCORES AND THE NCAA CLEARINGHOUSE with test prep professional Jennifer Henson
51. HELPING STUDENTS PREPARE FOR THE DEMANDS OF COLLEGE with clinical neuropsychologist Dr. Adam Zamora
50. UTILIZING A REFLECTION JOURNAL TO PREPARE FOR YOUR COLLEGE ESSAY with educational consultant Carrie Bedard
49. DOES WHERE YOU GO TO COLLEGE MATTER? with college consultant Lynn O'Shaughnessy
48. HOW TEST PREP AND SPORTS ARE SIMILAR with test prep professional Tony Miglio
47. WHY GRADE INFLATION IS HARMFUL with researcher and professor Seth Gershenson Ph.D.
46. ATTENDING A COMMUNITY COLLEGE with college admissions professional Heidi Nicholas
45. EXECUTIVE FUNCTIONING SKILLS AND TEST PREP with interdisciplinary educator Jenna Bee
44. PATHWAY PLANNING FOR HIGH SCHOOLERS with school counselor Andrea House
43. INCREASED COLLEGE COSTS FOR SPECIAL NEEDS STUDENTS with publisher and researcher Mark Kantrowitz
42. HELPING TEENS GET THE SLEEP THEY NEED with physician assistant and Sleep 101 project manager Kari Oakes
41. MENTAL TECHNIQUES FOR PEAK TEST PERFORMANCE with CEO/Founder of City Test Prep Bara Sapir
40. 2020 CHANGES IN ADMISSIONS RULES with associate dean of college counseling and author Patrick O'Connor, Ph.D.
39. WHAT DOES IT MEAN TO BE A BAD TEST TAKER? with test prep professional and author Moshe Ohayon
38. HOW TEST PREP TUTORING SHOULD WORK with Evan Wessler of Method Learning
37. BRINGING GRIT TO TESTING AND ADMISSIONS with researcher and author Laila Y. Sanguras, Ph.D
36. WHAT MOTIVATES STUDENTS AND HOW TO ENGAGE THEM with test prep professional Pranoy Mohapatra
35. ATTENDING A JESUIT UNIVERSITY with Xavier University Regional Recruitment Director Trace Althoff
34. HOW TO TEACH STUDENTS TO STUDY EFFECTIVELY with academic life coach Gretchen Wegner
33. PSAT AND THE NATIONAL MERIT SCHOLARSHIP PROCESS with test prep professional and author Brian Stewart
32. MAKING THE MOST OF COLLEGE VISITS with independent educational consultant Jodi Rosenshein Atkin
31. WHAT COLLEGE BOARD AND ACT ARE DOING RIGHT with Ben Sexton, founder of Sexton Test Prep
30. ATTENDING A LARGE PUBLIC UNIVERSITY with OSU Admissions Counselor Keith Lofton
29. HOW PARENTS CAN BEST SUPPORT STUDENTS IN TEST PREP with Alexis Avila, founder and CEO of Prepped and Polished
28. THE REALITY OF GRADE INFLATION with Brian Eufinger, president of Edison Prep
27. COMMON MYTHS ABOUT THE SAT AND ACT with Daniel Ascher, President of A+ Test Prep and Tutoring
26. ALL ABOUT THE ROTC SCHOLARSHIP with consultant and author Lieutenant Colonel Robert O. Kirkland
25. WHEN GIFTED AND TALENTED STUDENTS STRUGGLE with Shane Bybee, founder of Bybee College Prep
24. CHOOSING HIGH SCHOOL MATH COURSES STRATEGICALLY with author and educator Richard Corn
23. ATTENDING COLLEGE IN A BIG CITY with NYU Director of Admissions Billy Sichel
22. WHAT IS ACT SCIENCE ALL ABOUT? with author and test prep guru Michael Cerro
21. IMPLICATIONS OF AN ENVIRONMENTAL CONTEXT DASHBOARD with Travis Minor of Open Door Education
20. THERAPEUTIC SCHOOLS AND TEENS IN CRISIS with the CEO of Score At The Top Learning Centers, Jason Robinovitz
19. COLLEGE PRICE TRANSPARENCY with Dr. Mark Salisbury, co-founder of TuitionFit
18. USING MINDFULNESS FOR TEST AND SCHOOL SUCCESS with educator and author Logan Thompson
17. DIFFERENCES BETWEEN SAT AND ACT GRAMMAR with author Erica L. Meltzer
16. HOW THE SAT IS ACTUALLY SCORED with Aaron Golumbfskie of Prep Matters
15. FINISHING A FOUR-YEAR DEGREE ON TIME with educational consultant Edie Steele
14. MATHEMATICAL MATURITY & TEST SUCCESS with author and test prep professional Dr. Steve Warner
13. THE RAMPANT COST OF COLLEGE with Paul Celuch, president and founder of College Assistance Plus
12. HOW SCHOOL AND PRIVATE COLLEGE COUNSELORS CAN WORK TOGETHER with counselor Cathy Charles Szendrey
11. TEEN ANXIETY AND SOCIOECONOMIC STATUS with psychiatrist Dr. Anthony Villani
10. DECIDING BETWEEN THE SAT AND ACT with Heather Krey, director of Test Prep for Success
9. COLLEGE ADVISING FOR UNDERSERVED POPULATIONS with Dr. Chris Tudico, school counselor at Saint Martin de Porres
8. BRINGING CRITICAL BALANCE TO HIGH SCHOOLERS' LIVES with Eric Domroes, school counselor at Pittsford Mendon HS
7. STATE OF THE TEST PREP INDUSTRY IN 2019 with Kevin Organisciak, founder of The Association for Test Prep, Admissions, and Private Tutoring (TPAPT)
6. HOW TO MAKE THE MOST OF ONLINE TEST PREP with Tom Ehlers, founder and president of Method Learning
5. NEED BLIND AND NEED AWARE ADMISSIONS with educational consultant Jona Jacobson
4. THE ROLE OF LIBRARIES IN TESTING AND ADMISSIONS with Deena Viviani, Young Adult Librarian at Brighton Memorial Library
3. ACT SCORE REVIEW AND VALIDATION with Desiree Rodriguez-Gould, college counselor at St. Edward HS
2. PAST, PRESENT, AND FUTURE OF TESTING + Amy Seeley's origin story
1. SAT & ACT TESTING TIMELINES + Mike Bergin's origin story
And if you are a test prep professional who enjoys the podcast, you really should join Test Prep Tribe, our closed industry Facebook group.